Outline Models
For break, one of my focuses was on the outline models. We decided on looking into a modular kit that could be utilized to throw together a building in the solarpunk theme for the models on the outlining of the level's map. This solarpunk town/city would help keep players in the center and immerse them further in the idea of an overgrown space. I completed the first pass for these models and will be texturing them in the coming week.
Tree Model UVs


In addition to outline models, I UVed my final tree models for Gabe to texture. The final textures should be over on his PPJ13.
Particle/Shader Research


Finally, I also did what Tyler called "Research" on my particles and shaders. In this time all I created a list of particles and shaders that the game would need. After creating the list, I did my research online for ways to create the particles we wanted. A tutorial example of what I found can be seen below. It's a tutorial for a snow shader, but it can be easily modified into one for moss.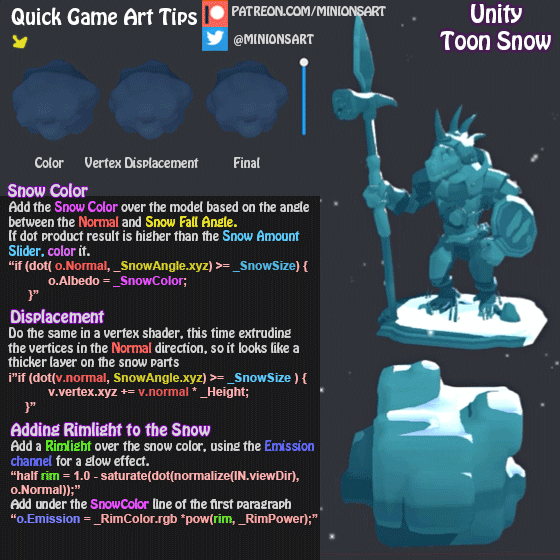 What went well


I finished the first pass of the outline models, and consider it one of my babies. After the character screen and loading screen went on hold at the end of Fall term, I found my new purpose in the outline models and particles! I'm really proud of the outline models and I hope that it comes together well with textures.
What could have gone better


More work could have gone into the particles. But I wanted to enjoy my break, and they're at a good enough place for the start of the term.
Total Hours (35hrs)


– Meetings (4 hrs)
– Outline Models (24 hrs)
– UVs (3 hrs)
– Particle Research (4 hrs)